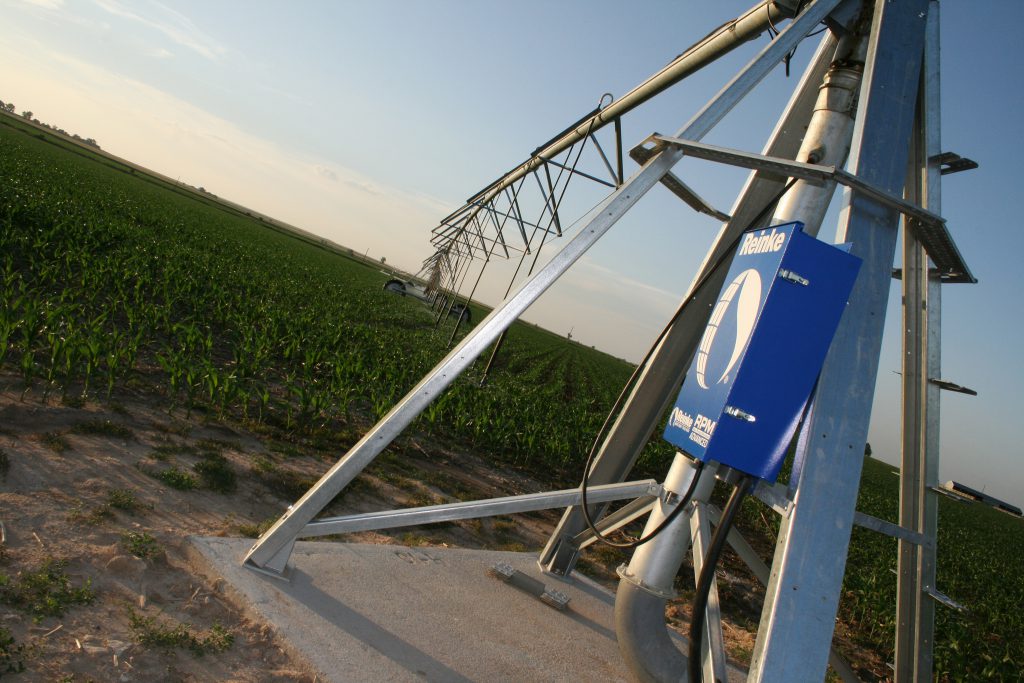 RUNNING CIRCLES SINCE 1968
What makes a Reinke system so special? Built from high strength materials, a Reinke system weighs less resulting in less stress on the drive train. This reduces the cost of ownership over the life of the system.
EFFICIENT, EFFECTIVE & ECONOMIC
Irrigation in agriculture plays a significant role in the production of U.S. and World agriculture goods. Without the use of irrigation, crop production would be limited making it a challenge to meet the needs of a growing population.
Over the years many different irrigation techniques and methods have been developed to accommodate changing environments. Age-old surface irrigation still continues to be popular based on its simplicity and cost effective value, but as technologies are changing mechanized irrigation systems are becoming more and more appealing to producers. Center pivot irrigation has become the most efficient and effective form of irrigation by using precision technology for many different applications throughout a field.
The future of irrigated agriculture will depend on the acceptance of changing technologies to increase precision management practices and enhance crop production. The value of efficiency and effectiveness is essential to maintain a sustainable agriculture environment.
REINKE IS PROUD TO PROVIDE QUALITY PRODUCTS THROUGH KNOWLEDGEABLE DEALERS.
We are one of the largest irrigation systems and components manufacturers in the world. With more than 80 acres dedicated to the design, production and distribution of irrigation systems and parts, there's no mistaking our commitment or level of expertise.
REINKE SYSTEMS ARE ALL ABOUT THE DETAILS
Other manufacturers don't put as much stock in the details as we do. Features such as long sweep bottom elbows, internal flex joints and high-strength steel give Reinke Systems endurance and performance power.
We are internationally known as a premier manufacturer and provider of the finest steel, stainless steel and aluminum irrigation systems and components. We offer more choices. Superior quality. Comprehensive service after the sale. That's our tradition and that's why we're an industry leader.
A Strong System Starts with a Strong Dealer
"My Reinke dealer is always there with parts and service when we need him." That's what we hear time and time again from our customers. Our dealers serve as true partners to our customers, so whether you're buying your first center pivot or you simply need to expand your current system, your Reinke dealer will be there right beside you to help.
Reinke Dealers
You can count on your Reinke dealer from start to finish — and everything in between — for an irrigation system that will yield more results from your fields. Your Reinke dealer will:
Provide a custom design that fits your soil, terrain and water supply needs
Install your system and see that it runs correctly
Make sure you have the knowledge to keep it operating smoothly
Follow up with ongoing service and support
INDUSTRY'S LONGEST SAC
EQUALS MOST IRRIGATED ACRES
A Reinke Swing Arm Corner adds valuable acres under irrigation. It starts by using high-strength steel that is 20% lighter and 50% stronger than steel used in competitive irrigation systems. This steel is then combined with engineering that meets the same uncompromising standards found in every Reinke irrigation product. The result is a swing arm corner that is lightweight for reduced stress on critical parts and incredibly durable for years of unwavering performance.
The longest structural warranty in the industry.
The industry's longest end boom/span combination.
Backed by a factory-trained dealer network.
Adapts to almost any competitive center pivot brand.
WATER APPLICATION COMPONENTS
Water conservation is a critical issue – not only for the irrigation industry and agricultural producers, but for every person on the planet Earth. It is very important that the right water application devices are installed on each system we sell to not only conserve water but to maximize yield. The ability to control droplet size, throw pattern and wind drift are extremely important when choosing the right sprinkler device for your irrigation system. Because of the huge variation of soil types, wind patterns and types of crops grown, it is important that we provide our customers with a wide selection of devices to choose from.
SPRINKLER OPTIONS
Reinke has always been cautious in offering only the best sprinkler products available that have been engineered with performance and quality in mind.   Today, there are many sprinkler options that provide a multitude of droplet sizes and pattern widths using both moving and stationary streams.  These sprinkler products are capable of generating low to moderately high application rates by utilizing a variety of plates, operating pressures, mounting heights and sprinkler spacing.  Reinke dealers are trained and capable of guiding you to the sprinkler option best suited to your specific terrain, soil type, climate, and cropping practices. 
PRESSURE REGULATORS
Pressure regulators are used to eliminate the pressure variation at the sprinkler nozzle that can be caused by water table fluctuations, elevation changes within the field, and the opening/closing of valves on the same pipeline. Pressure regulators are also useful for reducing higher pressures near the pivot point where the sprinkler nozzles are the smallest, thus minimizing plugging, wind drift and evaporation.
Pressure regulators are required for use with many of the sprinkler options that have been engineered for operating pressures ranging between 10 and 20 psi. Pressure is vital in providing the desired effe
ct and performance from the sprinkler device's selected plate, drop length and spacing. Operating pressures that are either above or below the manufacturer's recommendations can cause undesirable results both in the water application and expected life of the product. Choosing to skimp on the sprinkler package (not using regulators, fewer devices at a wider spacing, etc) to save a few dollars on the initial investment can end up costing hundreds of dollars in resulting yields every year.